The ultimate home inspection checklist for New Yorkers
A professional home inspection is something that can boost your confidence as a home buyer in New York. It's crucial to be adequately informed when making such an important life decision before closing on your new home. A home inspector's job is to identify any potential issues and give you a clear idea of the condition of the property you're looking to buy. Not hiring a home inspection to save money is one of the most common mistakes people make when purchasing a home. That decision usually cost them thousands of dollars later on, through repairs and adjustments. They realize they didn't buy a cozy home - but a money pit. Keep on reading to find out what you should include in a home inspection checklist and what to expect from a home inspector and their report.

Home inspectors are concerned with a home's physical components.
What a home inspection should include - the ultimate checklist
Prepare yourself for the home inspection in New York by making a list of areas of the home you want to check. The ultimate home inspection checklist should include:
House foundation
Roof
Attic
Rain gutters, downspouts
Exterior paint
Electrical panel, light switches, power outlets
Thermostats, heating, cooling, and ventilation system
Plumbing fixtures, faucets, and water heater
Home appliances
Walls and ceilings,
Floors and decks
Doors and windows
Stairs, steps, railings
Porches and balconies
Walkways and driveways
Basement
Garage
A good home inspector will even use thermal imaging to discover possible problems invisible to the naked eye.
Pests that destroy wood, such as termites and carpenter ants, require a special kind of inspection, so ask additionally to include it in your home inspection package.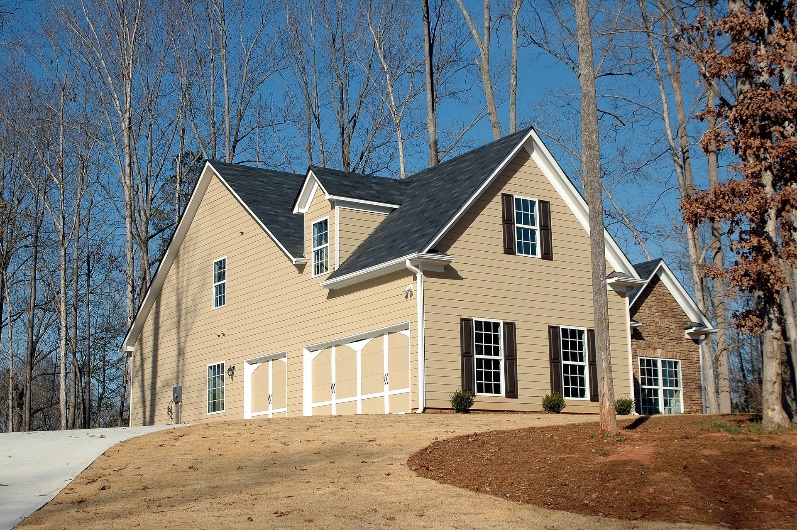 Home inspection includes: the roof, ceilings, walls, floors, windows, and doors.
What a home inspection checklist usually doesn't include
Inspectors are concerned primarily with a home's physical components. That covers a lot of systems, but it doesn't include everything. Details that might be left out of the home inspection checklist are usually:
Landscaping and trees
Lawn sprinklers
Sewer line and drainage
Swimming pool equipment
Fireplace and chimney
Mice, rats, or other rodents
Internet service
Home inspectors can only report what they can see, not what's inside walls, behind the furniture or boxes. The inspector looks for potential problems in the house and has an eye for detail, but anything that's not possible to see might go unnoticed. Hidden asbestos, mold, or other potentially hazardous substances may go undetected if you don't request specialized evaluations.
What to expect from the home inspector in New York?
The home inspector is qualified, educated, and licensed for this job. They need to make a visual assessment of a house's physical structure and mechanical systems. That includes inspection of the roof, ceilings, walls, floors as well as windows and doors. The trustworthy inspector will check if all major appliances are functional, check the heating and air-conditioning system, and make sure that plumbing and electrical systems are in good condition. Foundation cracks, rusty plumbing, exposed wiring, malfunctioning appliances are just some of the defects that may be revealed in the process.
The right time for a home inspection is when the seller has accepted your offer but before buying the house. Before you've signed the contract and settled on the price, schedule a home inspection. You need to have enough time for additional reviews if required and/or negotiations with the seller. Keep in mind that while the inspection itself usually only takes a few hours, the inspection report is generally not ready for at least a few days. Factor it in when considering your timetable.
Why is a home inspection so important?
Hiring a home inspector is the buyer's responsibility (and expense). The seller may offer you some previous home inspection reports or claim the house has been pre-inspected without providing proof. In either case, you need to arrange your own home inspection. The inspector will perform a detailed walkthrough of the home while taking notes and pictures. Accompany the home inspector, so you can comment on it together in real-time and discuss any issues immediately. A good home inspector won't comment on any aesthetics unless it's related to an underlying problem.
After discussing your concerns and receiving an objective opinion on the home's condition, it will be much easier to decide whether you want to buy or not. You may also ask your home inspector about child safety issues. Someone with enough experience should definitely mention it and discuss it further if needed.
What to do after you receive a home inspection report?
In the home inspection report, you'll have an extensive summary and estimate of the remaining lifespan of major systems and equipment, roofing, structure, paint, as well as finishes. You'll get notes about recommended repairs and replacements.

After a home inspection, you'll receive a detailed report which will help you decide on buying a home or not.
Make the decision
After a thorough home inspection is over, it will be much clearer if the house you're looking to buy in New York has been well-maintained or neglected.
If you're not satisfied with the home's current condition, you can make a deal with the seller to pay for the repairs or give you a discount due to the cost of repairs at closing. A good home inspection report can also help you prioritize repairs and improvements after you buy the home and eventually help you plan for upgrades.
If you're satisfied after receiving the home inspection report and studying it, you may close the deal peacefully. Start planning on everything you'll do right after the relocation! Look forward to making the most out of your new home. To make the new place look and feel charming and cozy, you'll need to add a personal touch. Spending some time planning and making your new home look amazing can improve your quality of life and increase overall happiness. So, right after the relocation and unpacking, start decorating. Add some beautiful details, décor, plants, and make your new place feels like your safe haven.
Plan a hassle-free relocation
It is of immense importance for first-time buyers to get the home inspection done, as well as to get professional help in the moving process. It will leave you with enough time to spend with your family members and prepare mentally for this big life step.
Many people claim that they are too exhausted to decorate their home right away. That mustn't be the case - if you hire reliable movers, their help will save your time. For example, usantini.com can offer you all kinds of services for your stress-free relocation, from pre-moving planning to packing and unpacking services, as well as storage.
Enjoy your new home
We hope this article helped you on your journey of finding the perfect home. Every step in that journey is important. Be sure that all your effort and struggles will be worth it when you find yourself living a happy and fulfilled life in the ideal house. Use this home inspection checklist and our advice to get closer to that goal, and good luck!
Author bio:

Marc Dyson is a retired real estate agent from New York City. Because of his long career, he is very familiar with common home buying and home inspection issues, so he decided to share his experience with this topic.